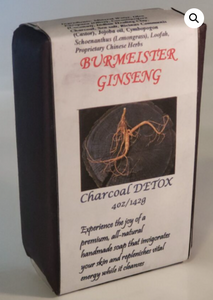 Charcoal Detox Soap by Burmeister Ginseng
Charcoal Detox Soap from Burmeister Ginseng
Developed by Dr Buck Campbell of Hollywood, FL to aid with detoxing, removing acne and reducing the appearance of scars/blemishes.
Please refer to the following information provided by Dr Campbell regarding the functional ingredients and benefits of this amazing soap.
HERBS
Xi Yang Shen, American Ginseng
The emperor's herb, reduces cytokines that cause inflammation and helps to regulate cortisol levels, helping with a number of stress-related conditions. Cools the skin. Burmeister Ginseng grows the best ginseng in the world right here in Wisconsin.
Indian Healing Clay
This clay helps to remove toxins from deep in your pores, allowing skin to heal and reducing inflammation. Bentonite clay has been shown to help in the lightening of acne marks and helps one to reduce the appearance of scar tissues and stretch marks.
Activated Charcoal
Draws bacteria, poisons, chemicals, dirt and other micro-particles to the surface of skin, helping you to achieve a flawless complexion and fight acne. Charcoal is not metabolized or absorbed by the body, but it can be used to treat some poisonous bites and disinfect some wounds.
Sea Salt
Helps to cleanse pores deeply, balance oil production and thwart bacteria that can instigate breakouts and acne.
Lemongrass
A natural antiseptic and astringent, lemongrass oil has been traditionally used for cleansing and toning the skin, also helping to treat skin conditions such as acne and fungal infections.
Huan Qi or Astragulus
Nourishes and tones the skin. Helps wound that will not heal.
Tien Chi Ginseng or San Qi 
Chinese say it 'separates the turbid from the clear.' Helps escort dirt and toxins caught in the skin matrix. Works to regulate blood flow through the skin.
OILS
Olive Oil 
Known to renew the skin, helps with eczema and psoriasis.  Skin moisturizer with antioxidant properties.
Coconut Oil 
Contributes to a harder bar soap small bubble lather.  Leaves the skin supple, soothes irritated skin, scratches, bug bites and flaking.
Castor Oil
Helps formulate a really smooth lather and contributes to a harder bar soap. Known to be incredibly therapeutic to the skin.
Jojoba Oil
High in Vitamin E, leaves the skin with a glow.